Twenty Under 40 Gala
Friday November, 8th at Elm Estate
2019 Twenty Under 40 Nomination Best Practices
We know your candidate is a winner; that's why you are nominating, but there is a bit more to the process than the candidate themselves. How you complete the nomination form and the information you provide is key! Here is our best advice to help you make sure you give your nominee the best shot at being noticed by our selection committee.
Professional Success (1000 characters or less): What are their major professional accomplishments (facts and figures help!)? What awards and recognition have they received? What is their impact on their organization?
Community Leadership (1000 characters or less): How does this person's actions impact the quality of life in our community? What organizations are they involved in and in what capacity? Last year's judges thought community service was the number one criteria for winning.
Our judges read every single nomination (each nomination is scrubbed and is made anonymous before being sent to the judge's panel- so please do not list their name in the write up because it will look awkward redacted) and apply a scoring metric, which ranks the candidates. The selection committee then meets and reviews the nominations to determine the 40 finalists. The judges combined score for each candidate help to set the initial 40 but individual judges might choose to make a case for any candidate they feel may have been overlooked or undervalued by other judges. The committee comes to a consensus on the 40 finalists and 20 award winners.
What do I need to have before I start my nomination?
Nominator info: your name, email address, phone number and whether you want your name to be released as a nominator.
Nominee info: nominee's name, email address, phone number, company, title, and date of birth. All nominees must be younger than 40 years of age by August 23, 2019.
When writing your nomination, keep these pointers in mind
Be thorough. If you know your nominee does a lot in the community, but you are not sure what it is, FIND OUT! Incomplete nominations don't win. Amazing people tend to be humble and you might not know everything they are involved in. Get to know your candidate and represent them in the best light. Do some research; talk to their spouse, sibling, parent, boss, business partner, board members, etc, if necessary.
Data tells a great story! Knowing that your nominee grew their business from 4 to 30 employees, raised $10M for their charity, increased sales by 150% or volunteers 500 hours/year impresses our judges.
Be concise and specific. Bullet points are great!
Call out achievements and awards; even if outside of their professional capacity. Recognition from the most recent decade is best.
Judges want facts and objective information.
The only information the judges will use for rating each nominee is that provided in the nomination. So what you provide will make or break their evaluation.
Write your nomination in a word processing document and save it! You may copy and paste into the nominations form. That way you will always have a copy of what you submitted!
If you have questions, please feel free to contact Reno Tahoe YPN's executive director, Chelsea Hart at 775.237.8855 or [email protected]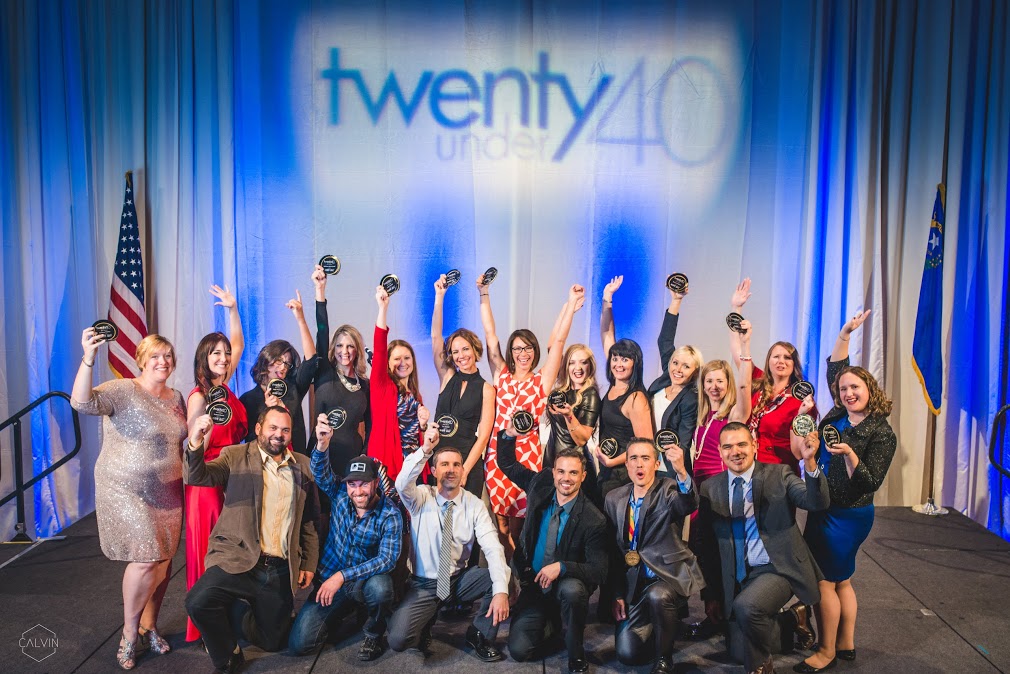 How does the judging process work?
Selection Committee: Our selection committee is made up of two Board members from Reno-Tahoe YPN, two Alumni of the Twenty under 40 Awards, two area executives and one community member selected for their significant contributions to the Twenty Under 40 Awards Program.
Twenty Under 40 Awards Event
November 8, 2019
Key Dates:

Nomination Deadline – August 23rd, 2019
Applications Review Period – During the second week of September
Top 40 Selected – During the third week of September
Finalists Notified – Immediately after the judges meeting
Finalists List Published – As soon as every finalist has been notified and confirms their commitment
Finalist Party – October **Finalists are expected to be in attendance**
Awards Event – November **Finalists are expected to be in attendance**
Non-Profit Check Cutting – February following the Awards Event